Technogames STEM robot fun
June 8, 2016
Technogames is an annual STEM education event that Bright Green Hydrogen runs in conjunction with Fife College Engineering Department. Teams of P7 pupils from all over Fife come together to compete and see who can build the best robot for sumo wrestling, the assault course and for playing football. This annual event is widely supported by the schools and is usually over subscribed!
Our Education Officer Lorna was part of the instructing team to help and advise pupils on how to build the best robot, and she also helped with the judging of the games themselves.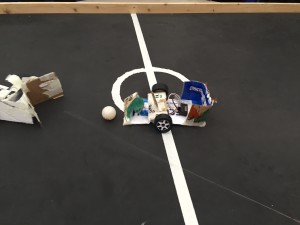 Bill Hutchison from Fife College said "This Scottish Technogames have been running for many years now, and we are delighted to have our educational partners Bright Green Hydrogen assist us for the 6th year in a row."
Congratulations to the winners pictured.