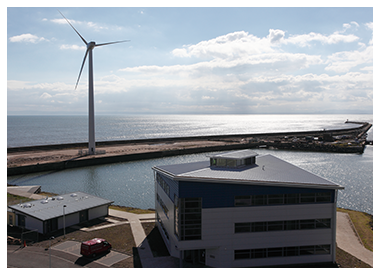 LEVENMOUTH COMMUNITY ENERGY PROJECT WELCOMES £4M FUNDING FROM SCOTTISH GOVERNMENT
March 26, 2015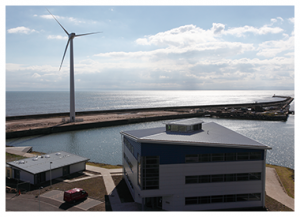 A pioneering industry development aimed at shaping the future prosperity of Levenmouth communities through a number of green hydrogen projects has been awarded £4million of Government funding.
Based at the Hydrogen Office in Methil and run by Bright Green Hydrogen, the new scheme involves the facility being developed into the world's foremost demonstrator of innovative applications of hydrogen derived from renewable sources.
This includes Levenmouth becoming the home of Europe's largest fleet of hydrogen dual-fuel vehicles (25) including Ford Transits (10), Renault Kangoo vans (10), and refuse collection vehicles (2). Hydrogen refuelling is to be installed at both the Hydrogen Office and at the Fife Council vehicle depot at Bankhead in Glenrothes.
The visionary project, which would position Levenmouth at the heart of the next generation of clean energy evolution, may also power part of the heating of Leven swimming pool by hydrogen produced at the Hydrogen Office. This would not only bring economic benefits to the area but is widely considered as a valuable demonstration of how hydrogen can decarbonise heating applications in Scotland and help secure future energy supplies for generations to come.
Hydrogen will be stored at the Methil site and reconverted to electricity at times when onsite wind and solar generation is low. This will help offset the intermittency of renewable generation and as a result, improve the business park's ability to be energy self-sufficient. Such an approach will also demonstrate how more renewable energy can be connected to the grid nationally by alleviating the network export constraints that are becoming all too common in areas such as Scotland in times of peak renewable generation.
The hydrogen energy management system at site will be implemented by project partner, Toshiba, which will also play an active role in the development of project learning.
The Levenmouth Community Energy Project comprises lead partner, Bright Green Hydrogen Ltd, along with Fife Council, Toshiba, Leven Valley Development Trust; Fife College; BOC (for hydrogen transport); Green Business Fife; Community Energy Scotland; and the Scottish Hydrogen and Fuel Cell Association (SHFCA).
Bright Green Hydrogen's Chief Executive, George Archibald, welcomed the funding news: "The project team of David Hogg, Iain Todd, Barbara Whiting and Stephen Stead has worked hard to capitalise on its collective expertise and to develop robust designs for this project – against tough competition from the whole of Scotland. We are delighted that this effort has paid off, and we look forward to a year of implementing this project and ensuring its successful completion."
Fife Council's Depute Leader and Executive Spokesperson for Economy and Planning, Councillor Lesley Laird, said: "For some time, Fife Council has strived to achieve a leading innovative position in the energy sector in Scotland. This is very important for the local community and indeed the Fife region in terms of our becoming a leading sustainable energy force. This funding award could only have been achieved with support from a number of groupings within the Council and together with the project team, it is a crucial linchpin that enables us to progress these exciting developments."
For Toshiba, Corporate Senior Vice President, Osamu Maekawa, stated: "Toshiba is convinced that hydrogen will play a key role in world energy markets in years to come. We have been searching the world for a site to engage our technology with innovative green hydrogen applications, and have selected the Levenmouth project as the perfect such location. We look forward to working with other members of the team to achieve our joint objectives."