David wins Young Professionals Green Energy Award!
June 9, 2016
There was a lot of excitement at the BGH office last week when David Hogg our Technical Manager was given the Innovator Award at the Young Professionals Green Energy Awards. The event was held at Glasgow Science Centre.
David said " I'm delighted to have won this award. To me, this reflects the hard work of the whole Levenmouth Community Energy Project team. I can't wait to be able to showcase the innovation involved in the energy system to everyone who wishes to visit Bright Green Hydrogen".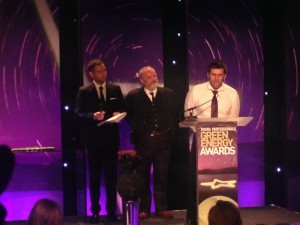 David and the other winners now go forward to be considered for the Rising Star award at the Scottish Green Energy Awards later in the year.
Other winners include:
Academic Award : Dr Adrian de Andres, University of Edinburgh
Leader Award : Tony Gannon, ScottishPower Renewables(Glasgow)
Communicator Award : Lisa MacKenzie, EMEC (Orkney)
Achiever Award : Rosie Scurr, Mainstream Renewable Power (Scotland's east coast)
Professional Award : John Allsopp, Arcus Consulting
Business Development Award : Lachlan McInnes, McInnes Plumbing and Heating / McInnes Renewables (Inverness)
Engineer Award : Brian Farrell, Natural Power (Stirling)
Judges Award : Peter Greaves, Offshore Renewable Energy Catapult (Glasgow)
This achievement is a great testimony to the hard work and dedication that David has shown to Bright Green Hydrogen and the Levenmouth Community Energy Project.